Episode #1: How We Dismantle Dysfunctions in Organizations
What would it take to claim to be experts in dismantling organizational dysfunction? How about the over 70+ combined years of experience that podcast hosts Dr. Anne Dranitsaris and Heather Dranitsaris-Hilliard have between them working with organizations stuck in dysfunction. They have spent their careers helping businesses identify and dismantle dysfunction in their workplaces, showing leaders how to lead from dysfunctional to high-functioning. By helping leaders understand how normal and natural dysfunction is in organizational life, they use their expertise to build and align systems, leadership behavior and employees with the goals of the business so it achieves its potential.
In today's episode, Anne and Heather share how their expertise evolved and provide fascinating highlights from their wealth of client success stories. Driving their work with leaders in all sizes of organizations is their desire to normalize dysfunction and give listeners the tools needed to deal with the dysfunction that is getting in the way of achieving potential growth and profitability.
If you want to know more about Anne & Heather's work with dismantling dysfunctions at Caliber Leadership Systems, check out:
https://dysmantlingdysfunction.com
https://www.dranitsaris-hilliard.com
Stop contributing to organizational dysfunction. Pick up your copy of So, You Think You Can Lead?: A Guide to Developing Your Leadership Authority and Potential
Make sure you sign up for our weekly newsletters for tips on how to dismantle dysfunction and develop your leaders: https://bit.ly/dismantlingdysfunction
Are you dealing with an organizational dysfunction you need help with? Or do you have a story you would like to share on our show? Contact us at [email protected].
IN THIS EPISODE:
[00:32] Introduction into dysfunction and
[02:24] What do we mean by dysfunction
[09:15] Who we are and how we are known by our clients
[10:52] Anne's introduction
[11:52] Heather's introduction
[13:00] Starting their business and combining their unique skill sets
[19:57] What drives us and why we do what we do
[26:00] The purpose behind Dismantling Dysfunction podcast
[26:53] The insights learned from 70 years of combined experience
[31:30] What to expect from the Dismantling Dysfunction podcast
[32:40] Final thoughts on making small behavioural changes to dismantle dysfunction
KEY TAKEAWAYS:
Dysfunction is a normal, natural part of organizational life.
One of the biggest challenges for business leaders is the willingness to look at the dysfunction objectively, including their own behavior, and not ignore it.
Success does not mean the absence of dysfunction and dysfunction doesn't just exist in organizations that are broken or unsuccessful.
There's no one size fits all approach to dismantling dysfunction. You need to dig deep and examine causal factors, belief systems, personality traits, absence of alignment of behavior and systems to goals, and more.
Leaders can start by becoming aware of what they are doing or not doing that contributes to dysfunction in their organizations.
When leaders are in alignment with the expectations of their role, they can minimize their contribution to the dysfunction as a first step.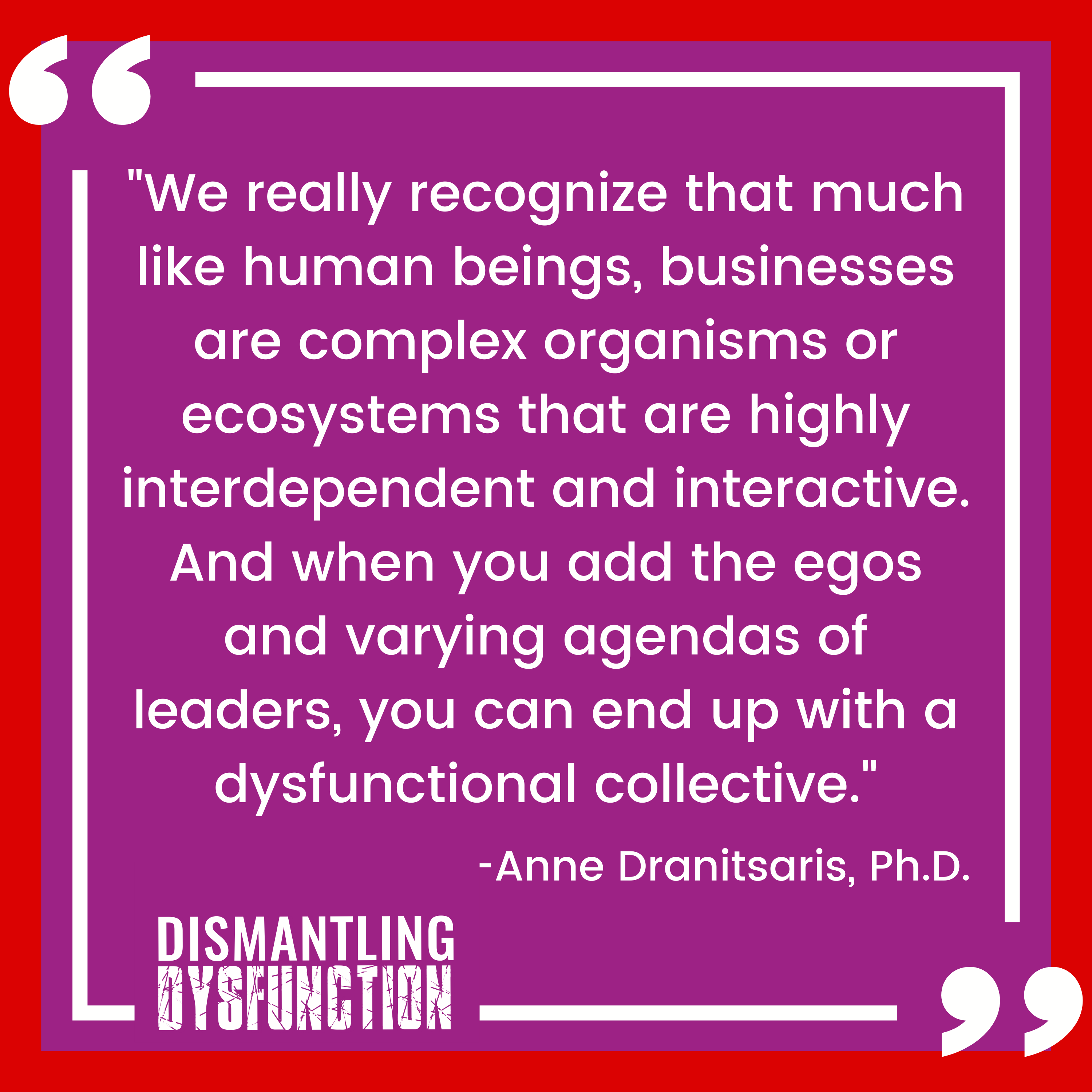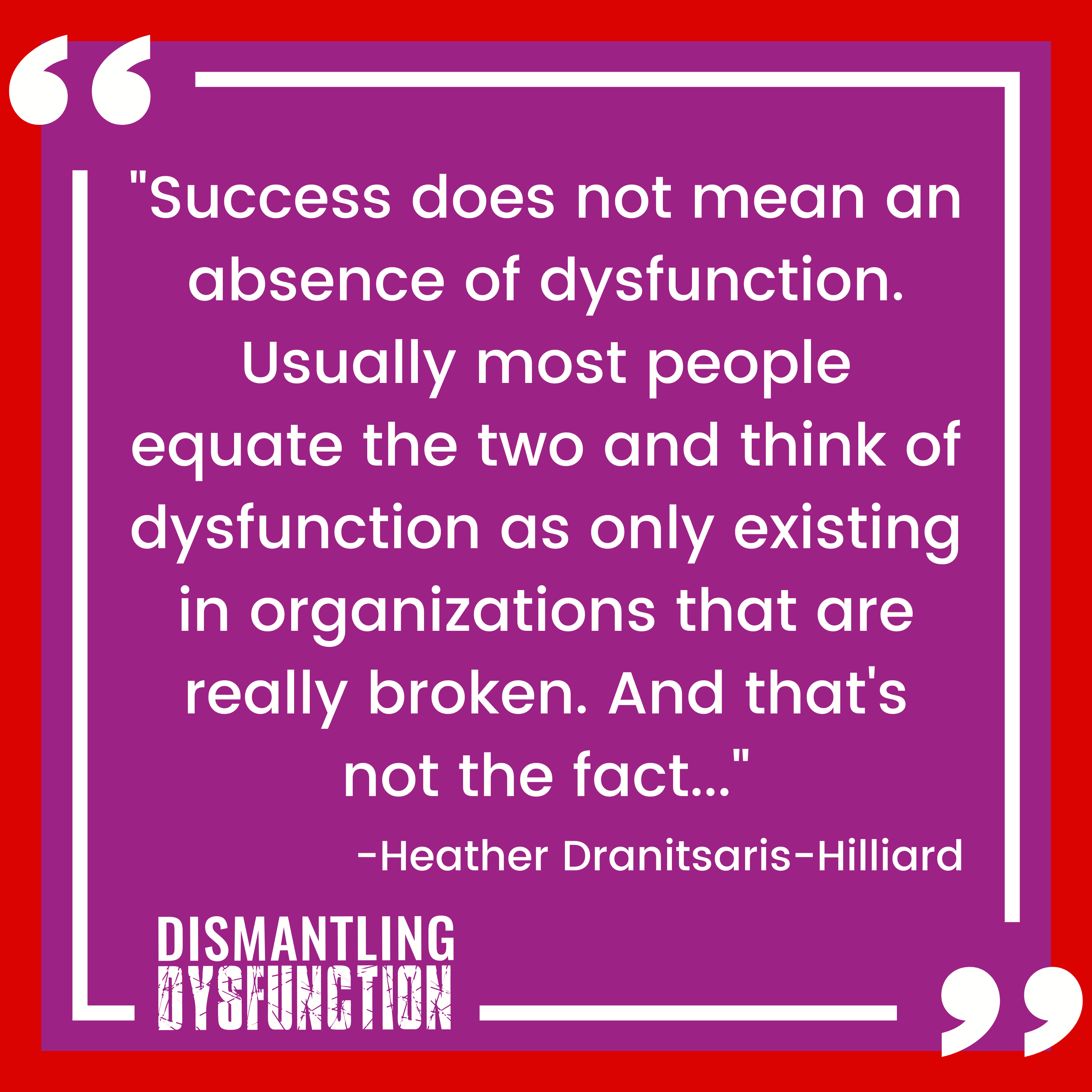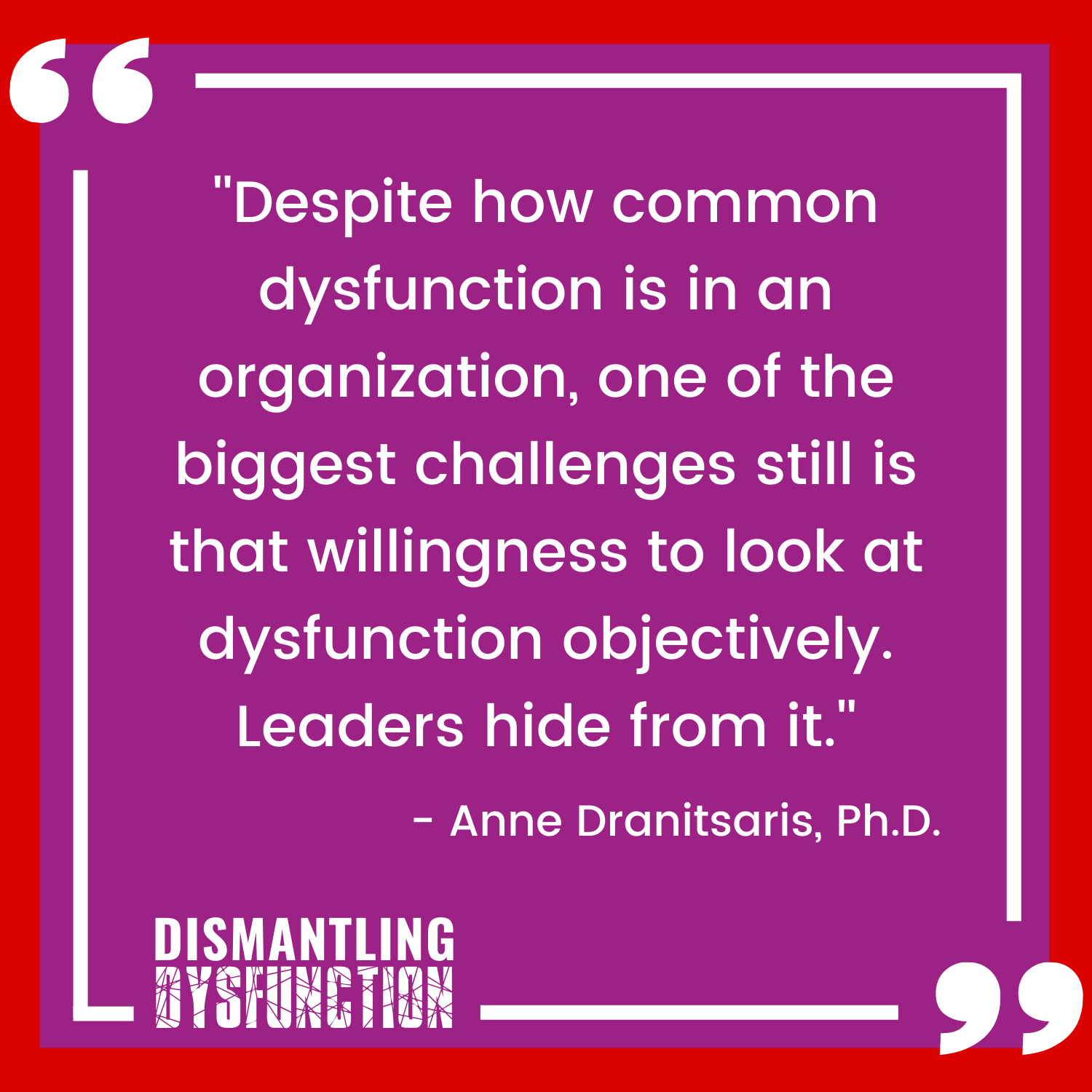 Did you enjoy this episode?
If so, sign up for our newsletter and get exclusive access to some of our best content!
Plus, we'll keep you in the loop – you'll be among the first to know when we've hit "upload" on a new podcast, article, or YouTube video!