Episode #12: Dysfunctions of Autocratic Leadership
Autocratic Leaders used to be the pinnacle of power in an organization. Now the trend is for leaders to aspire to be submissive, not powerful. In some companies, authority has become a dirty word and leaders who are directive are told to "be nice." Suddenly, leaders have become afraid to hurt employees' feelings. Yikes! What's an autocrat to do? Well, despite the whiplash to permissive leadership approaches, many organizations still succeed under the command and control style of their leaders. Autocratic Leadership still prevails because leaders aren't being trained or developed before assuming a leadership role or while they are being onboarded. In most cases, employees are promoted to leadership roles because of their ability to get things done, not because they have trained to be leaders. Stronger, dominant personalities still prevail, and overall leadership approaches continue to be autocratic as a result.
In today's episode, Anne & Heather explore the Dysfunction of Autocratic Leadership and share some real client stories that illustrate just how common it is to find this type of leadership behavior in organizations today. They'll also share some practical tips that you can use if the Dysfunction of Autocratic Leadership has taken control of your organization.
If you want to know more about Anne & Heather's work with dismantling dysfunctions in organizations and leadership behavior at Caliber Leadership Systems, check out:
https://dismantlingdysfunction.com
https://www.dranitsaris-hilliard.com
Stop contributing to organizational dysfunction. Pick up your copy of So, You Think You Can Lead?: A Guide to Developing Your Leadership Authority and Potential
Make sure you sign up for our weekly newsletters for tips on how to dismantle dysfunction and develop your leaders: https://bit.ly/dismantlingdysfunction
Are you dealing with an organizational dysfunction you need help with? Or do you have a story you would like to share on our show? Contact us at [email protected].
IN THIS EPISODE:
[01:35] Episode introduction and overview
[02:36] What is the Autocratic Leadership Dysfunction?
[06:36] Advantages of Autocratic Leadership
[07:33] Autocratic Leadership is adaptive and self-protective
[09:20] Autocratic Leadership and the need to hold on to power
[14:05] Organizational dysfunctions that Autocratic Leaders cause: Neglect
[18:25] Organizational dysfunctions that Autocratic Leaders cause: Silos
[19:35] Organizational dysfunctions that Autocratic Leaders cause: Minions
[26:28] Directive leadership behavior is not Autocratic
[30:25] Organizational dysfunctions that Autocratic Leaders cause: Stagnation and Mediocrity
[34:08] Episode gem & practical takeaway
KEY TAKEAWAYS:
During their heyday, Autocratic Leaders were considered strong, were respected, and were known to make things happen. They defined the vision, expectations and who was doing what when. They didn't ask for input and made decisions based on what they believed was right and expected others to adapt, learn and follow quickly. These leaders seek first to ensure the survival of the business and make decisions based on bottom-line results and fiscal stability.
There are certain characteristics of Autocratic Leadership that some experts believe can be damaging rather than rewarding in the long run, as they resemble that of a dictator. These behaviors include: not asking for inputs from others; the leader deciding on tasks and distributing responsibilities; lack of consideration for employee engagement; little or no reward or recognition.
Autocratic leaders don't take time to develop people skills, nor do they focus on the needs of their people. They prefer employees who have the same work style and priorities as they do.
The Autocratic Leader focuses on productivity and gets irritated when others expect them to engage in small talk. To them, efficiency is of primary importance, and paying attention to anything that doesn't accomplish the task to be done is a waste of time.
When leaders in organizations feel threatened by what is going on in the marketplace, employee dissatisfaction and complaints and a failure to achieve results, they can become more entrenched in the Autocratic Leadership Dysfunction instead of seeking development and guidance on how to effectively meet these challenges.
Demonstrating how new approaches, organizational structures, delegating decision making and loosening the reins on innovation support the achievement of results is the first step in helping them shift their behavior. Of course, developing their emotional intelligence, including building self-awareness, developing empathy and reflecting on their behavior are all critical to their long-term success as leaders. But often with this type of leader, changing systems and developing next level leaders has a better result than trying to convince them they need help.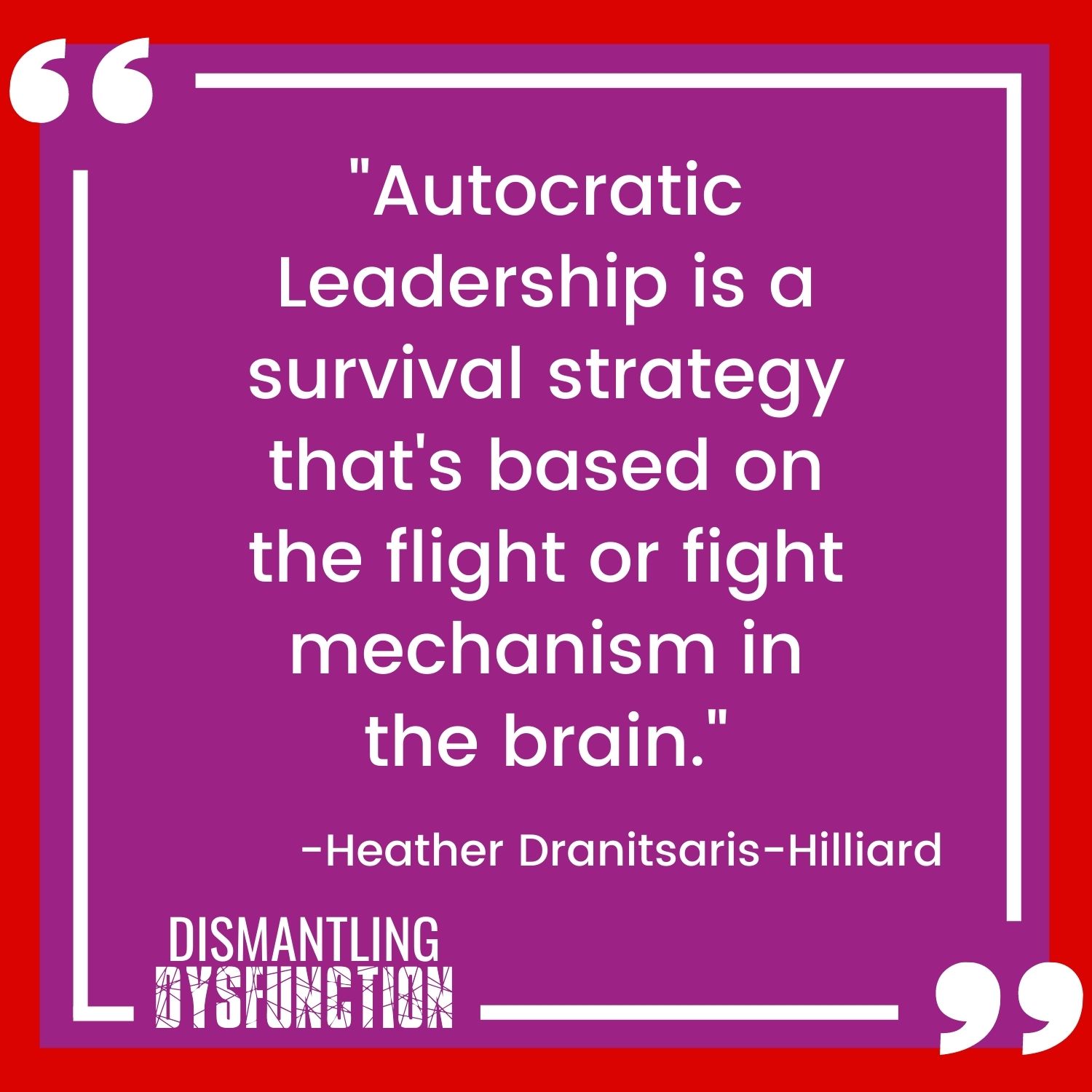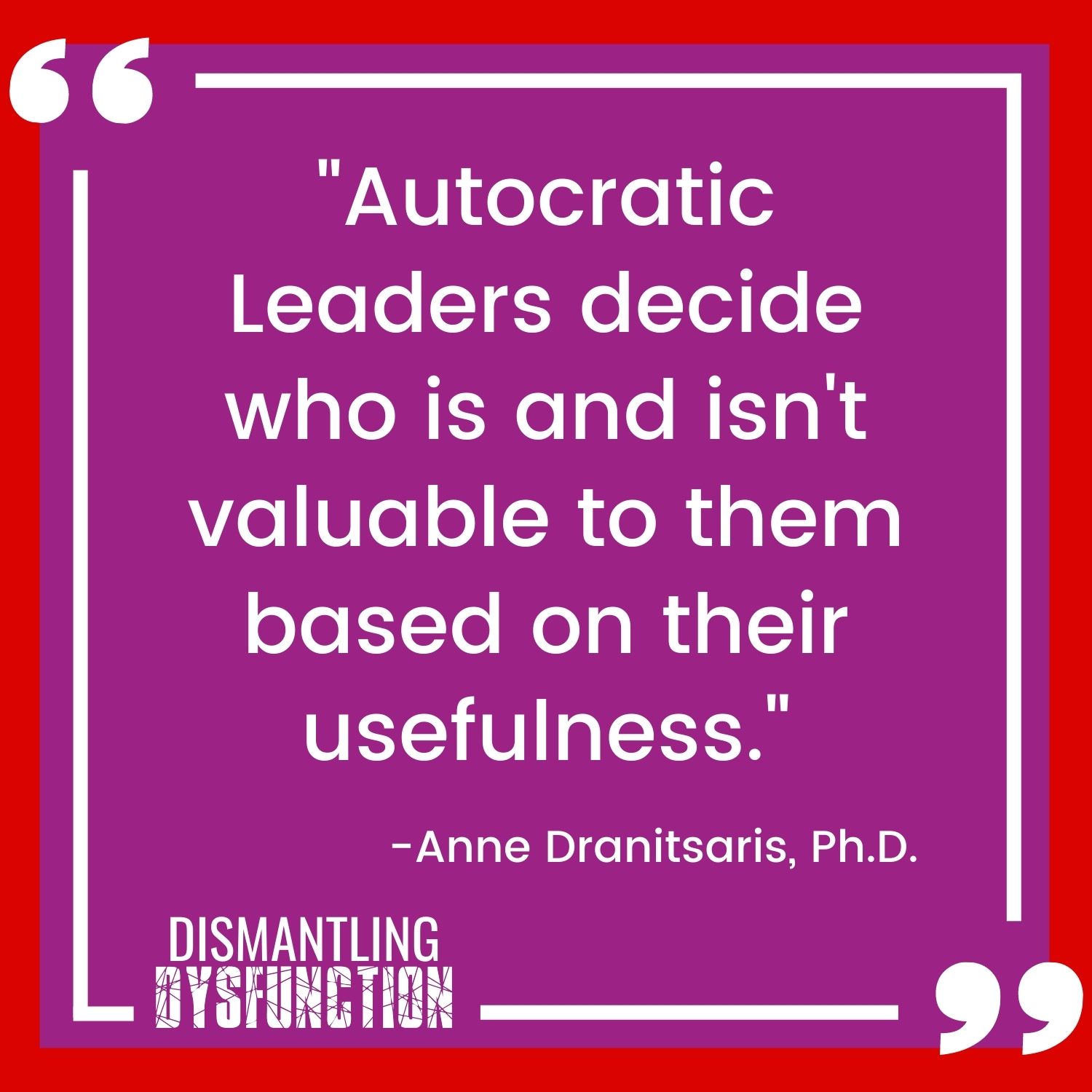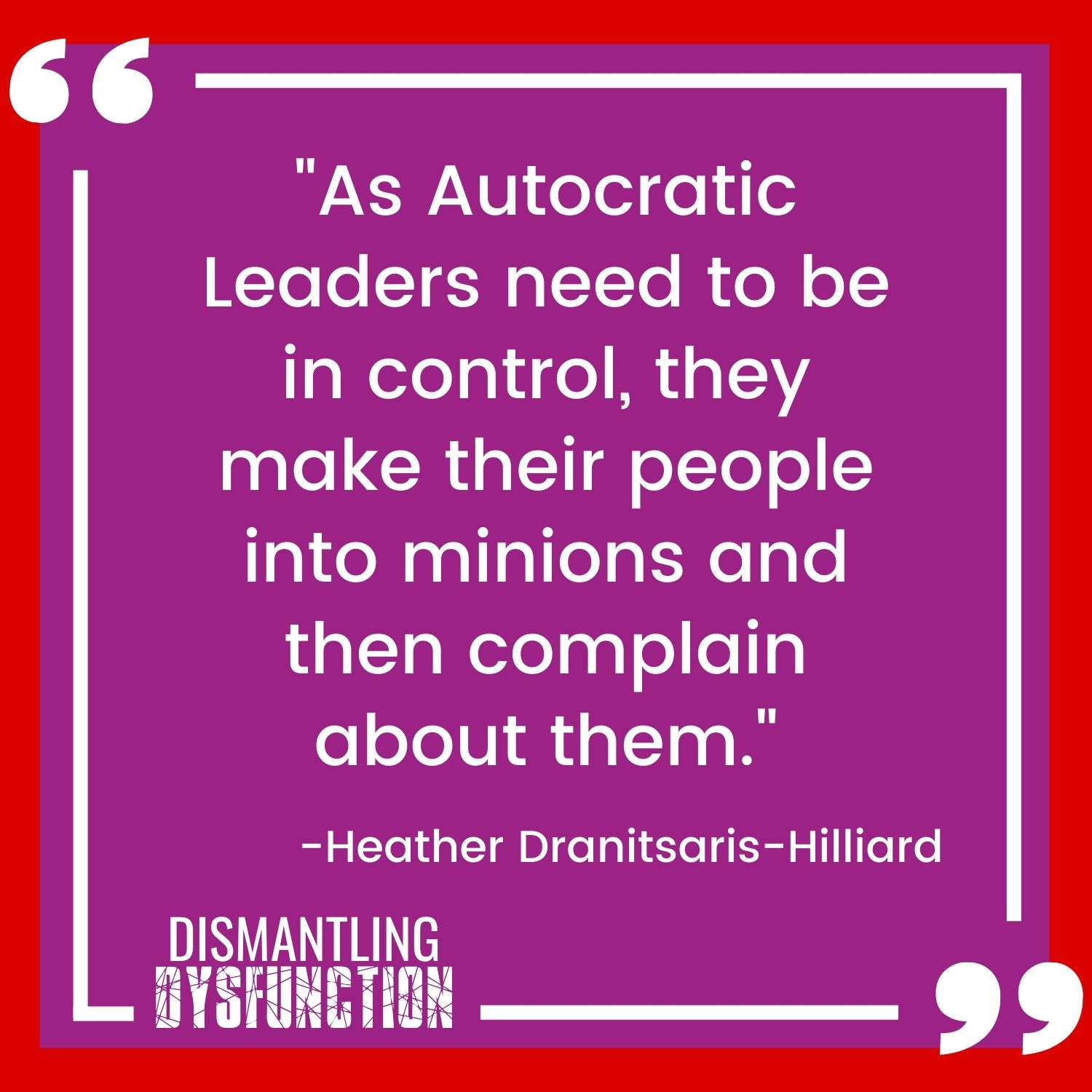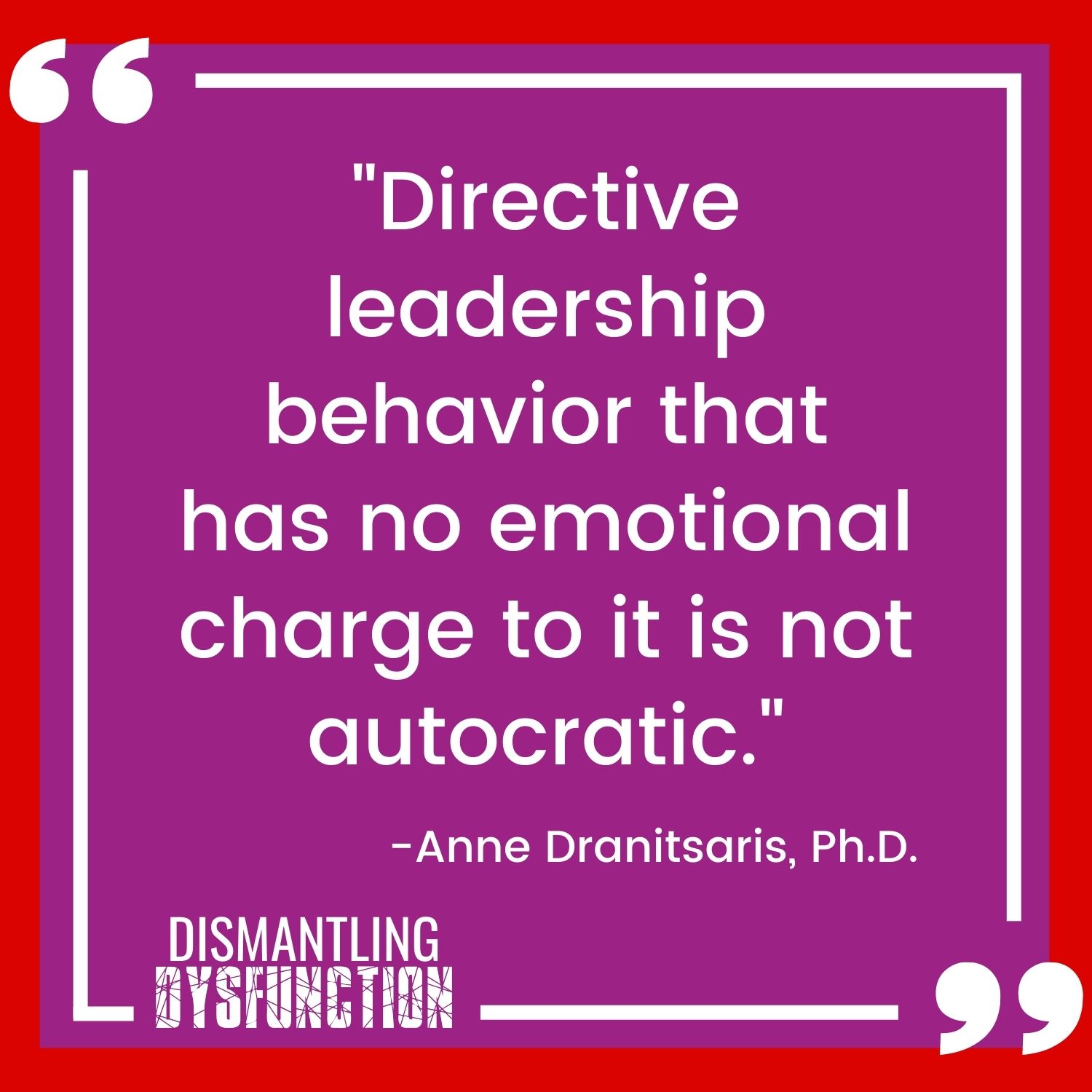 Did you enjoy this episode?
If so, sign up for our newsletter and get exclusive access to some of our best content!
Plus, we'll keep you in the loop – you'll be among the first to know when we've hit "upload" on a new podcast, article, or YouTube video!