Episode #69: Accountability Series Introduction
Struggling with the "A-word" in your organization?

 

You're

 

not alone! Accountability is more than just a

 

buzzword these days –
it's
morphed into a systemic problem pervading workplaces all around the globe. Prepare to embark on a brand-new series
with us –
we've
been eager to unveil
this
for months
!
Yes,
we're
diving headfirst into ACCOUNTABILITY, a subject
that's
ignited endless conversations, debates, and confusion in organizational cultures everywhere.
Leaders shivering at the mere mention of accountability, productivity spiraling downwards, misconceptions and fears aplenty—we've seen it all. Now, we're ready to shine a light on this growing epidemic. Join us as we dissect the widespread lack of accountability, unraveling why it's become such a pressing challenge in modern leadership. We'll uncover the myths, fears, and trends that are skewing our approach to accountability, resulting in a slump in both performance and productivity. 
From sidestepping the "control freak" stigma to grappling with defining, amending, and addressing performance issues, we're covering every angle. You'll hear authentic examples and professional insights on how leadership contributes to this dilemma and the ways to turn the tide. 
Whether you're a veteran leader or a newcomer to the helm, this series pledges to furnish you with the strategies and wisdom required to cultivate a flourishing, accountable environment. Ready to redefine leadership? Don't miss this powerful episode! Click that subscribe button, activate the notification bell, and offer a thumbs up if you find value in our insights. Let's venture together down the path of responsibility and success! 
If you want to know more about leading effectively, check out our book, "So, You Think You Can Lead?": https://www.amazon.ca/dp/B07QMVKNSV/  
Sign up for our newsletters: https://bit.ly/dismantlingdysfunction 
IN THIS EPISODE:  
[01:55] Series Introduction 

 

[05:05] Why Are Leaders Afraid of Accountability?

 

[12:26] How Leaders Contribute to the Epidemic

 

[33:07] Episode Gem

[35:51] Episode Wrap Up

 
KEY TAKEAWAYS: 
The misconception that accountability equates to an autocratic style of leadership often leads to leaders being labeled as 'control freaks', even when their behavior is not rigid or dictatorial. Many leaders fear that enforcing accountability might be perceived as overbearing, possibly causing team resentment and decreased morale.

Without training, leaders struggle to define expectations, correct performance misalignments with constructive feedback, or confront misalignment through appropriate and escalating consequences. And because they don't want to look like they don't know what they are doing, they then resort to blaming employees as a way to mask their own deficiencies.

True leadership starts with self-accountability. Leaders must first hold themselves accountable for their decisions, actions, and the overall performance of their team. This self-accountability is more than just acknowledging responsibility; it involves a deep understanding of one's impact on others.

 
So, whether you're a seasoned leader, a new manager, or just curious about what's been tearing organizations apart, join us in this thrilling Accountability series on the Dismantling Dysfunction Podcast, as we pull back the curtain on what's really going on. Remember, if you need help dealing with dysfunctions at work or in your personal life, reach out to us.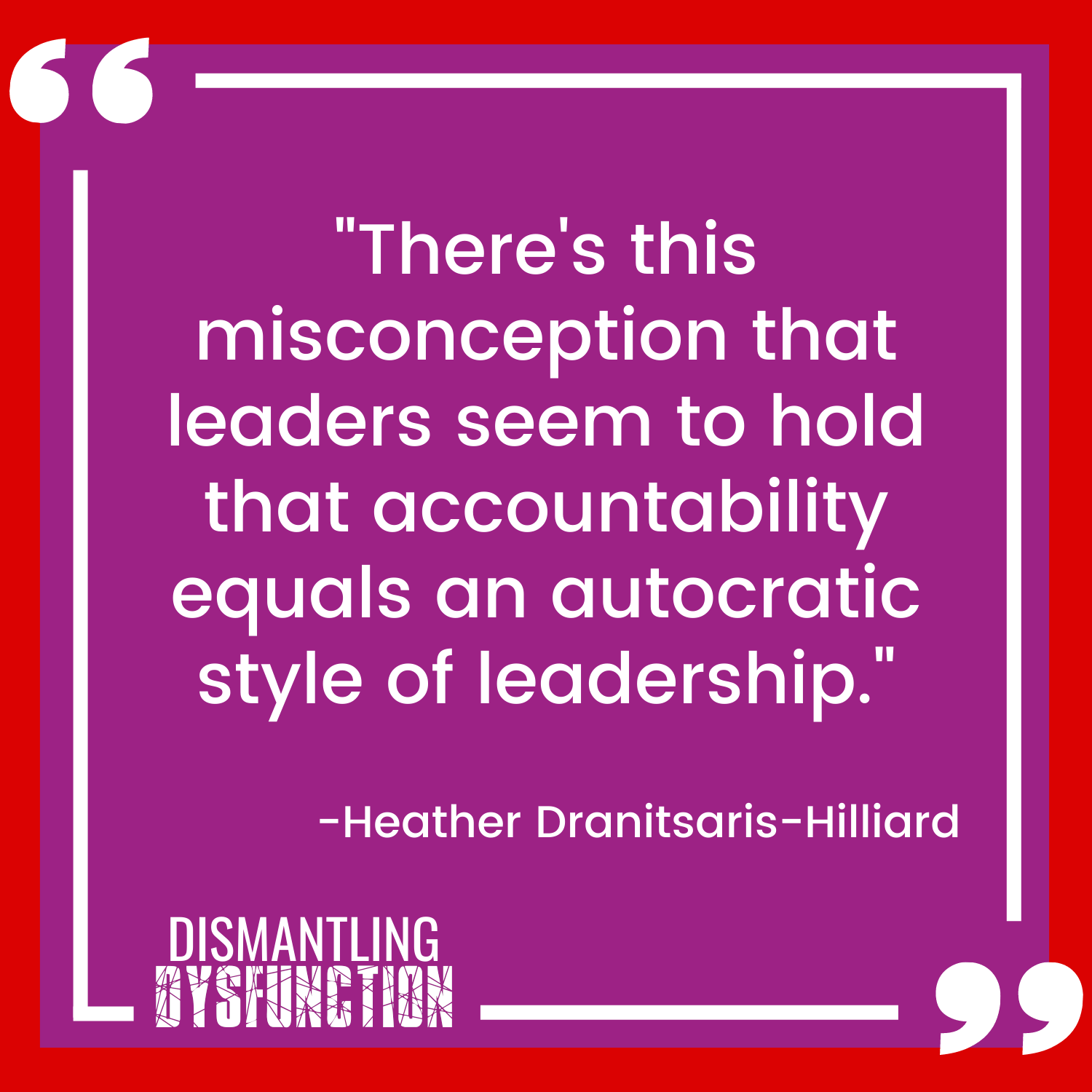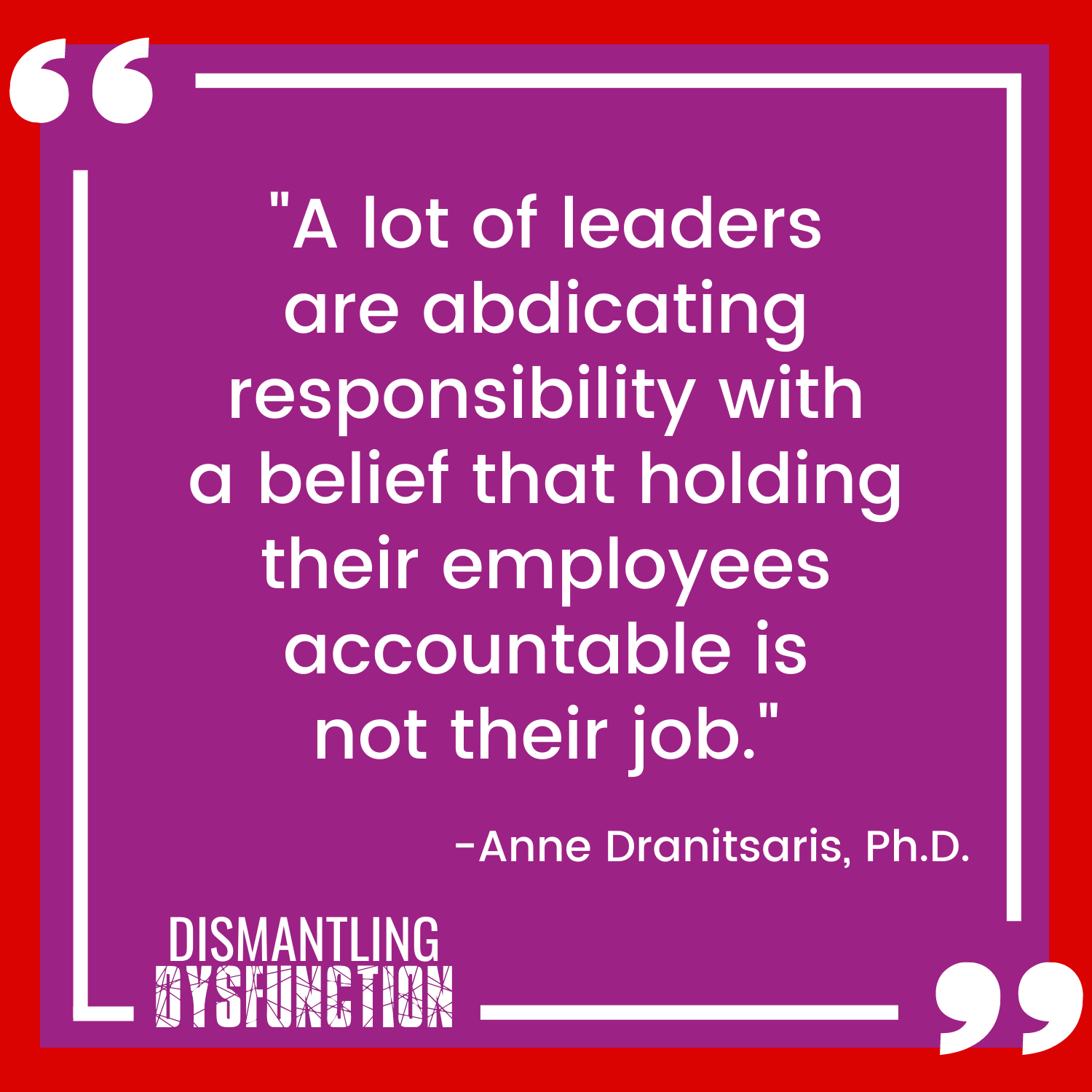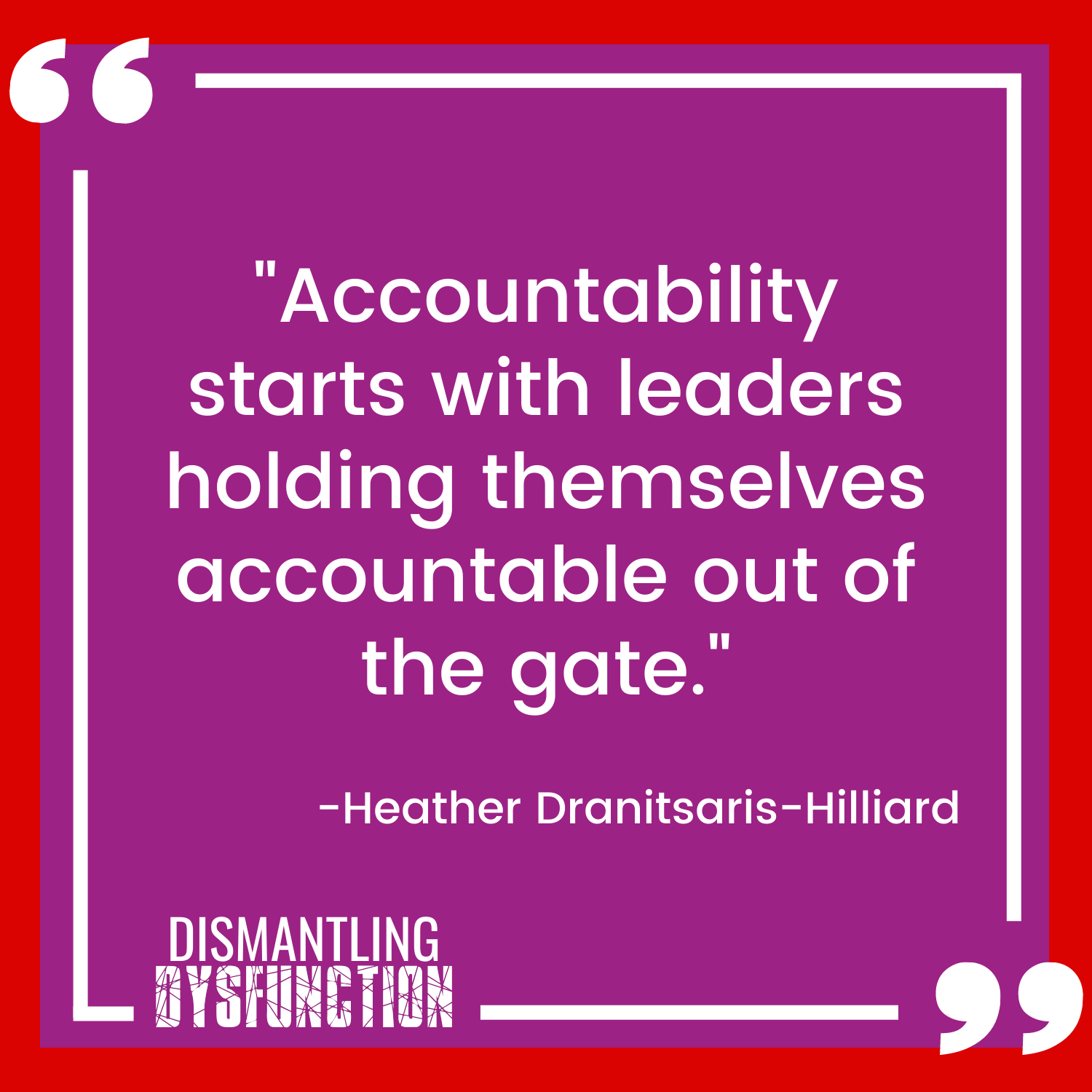 Did you enjoy this episode?
If so, sign up for our newsletter and get exclusive access to some of our best content! Plus, we'll keep you in the loop – you'll be among the first to know when we've hit "upload" on a new podcast, article, or YouTube video!